Dimesions Chart :
Capacity in Ltrs:
25SH
A
250
B
220
Dimensions in mm:
C
630
D
430
E
420
F
60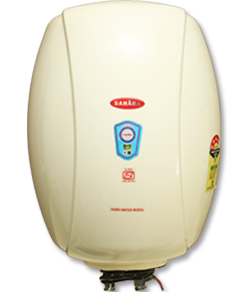 Features :
Built-in pressure relief valve to regulate water pressure.
Automatic thermostat as a primary temperature control device, to regulate temperature, generally set at 60°C
Thermal cut-out as a secondary temperature control device to prevent overheating in case thermostat fails, generally preset at 90°C.
Fusible plug for ultimate safety in case, both thermostat and thermal cut-out fails, set to fuse at 98°C.
Multi-Functional valve is provided for use in high-rise buildings and where the water heater is connected directly to the main water supply.