Dimesions Chart :
Capacity in Ltrs:
25Q
A
200
B
-
Dimensions in mm:
C
620
D
390
E
350
F
70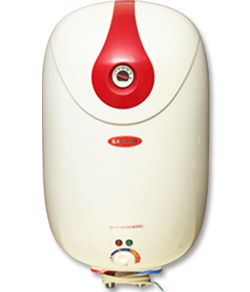 Features :
Vitreous Enamel Coated Tank With Single Weld Line Design :

Provides more corrosion resistance and anti-rust property resulting in longer life compared to stainless steel tanks.
25% more strength than stainless steel tanks.

Adjustable knob for temperature settings between 25oC to 75oC energy savings.
Preset Thermal Cutout.
Multi Functional Safety Valve.
Anode Rod Protects Enamelled Tank From Corrosion:
Magnesium anode rod protects tank from rust and corrosion.
High Working pressure 0.8 Mpa ideal for high rise buildings.